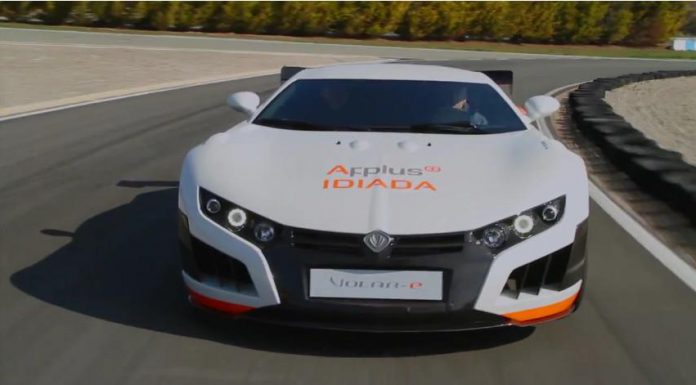 Just a couple of days after being announced and teased for the very first time, the 2013 Applus+Idiado Volar-E has just made its public debut at the Circuit de Catalunya in the midst of Formula One pre-season testing.
Don't get too excited however, as the 2013 Applus+Idiado Volar-E is essentially a re-bodied Rimac Concept One which means it won't hit the production line anytime soon. Nevertheless, the company behind the electric vehicle is promising some fairly insane performance figures, with the most notable being the fact that the car can reportedly produce 1000hp and 1000Nm of torque from its four wheel-mounted electric motors.
As a result, the 2013 Applus+Idiado Volar-E is said to hit 100km/h in just 3.4 seconds before topping out at 300km/h.
The 2013 Applus+Idiado Volar-E was apparently produced in just four short months using funds from the European Commission to create a "flagship for the promotion of electric vehicles in European society".
In addition to the release of the car itself, Applus+Idiado has released a video showcasing the performance of the Volar-E including some of its most impressive technical components such as the advanced torque vectoring system.
[Via World Car Fans]