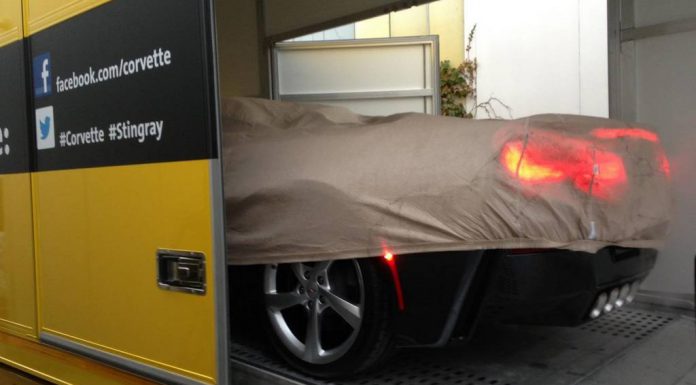 Despite the fact that the U.S. will remain the biggest market for the 2014 Chevrolet Corvette Stingray, Chevrolet recently confirmed that it'd be debuting the 2014 Chevrolet Corvette Stingray Convertible at the Geneva Motor Show 2013 to highlight just how important Europe will be in the future success of the Corvette C7.
And to get us automotive enthusiasts that much more excited, Chevrolet recently posted the following live image of the Corvette Stingray Convertible while on the road from Frankfurt to Geneva.
Although the image reveals very little of Convertible, what becomes immediately apparent is that the new car doesn't appear to have any rear buttresses like the Ferrari 458 Spider or McLaren 12C Spider meaning it'll retain a shape very similar to the previous generation Corvette Convertible.
In addition to this image being released, Chevrolet has also posted the link to the live reveal of the 2014 Chevrolet Corvette Stingray Convertible which we've provided you with above!
[Via Carscoops]