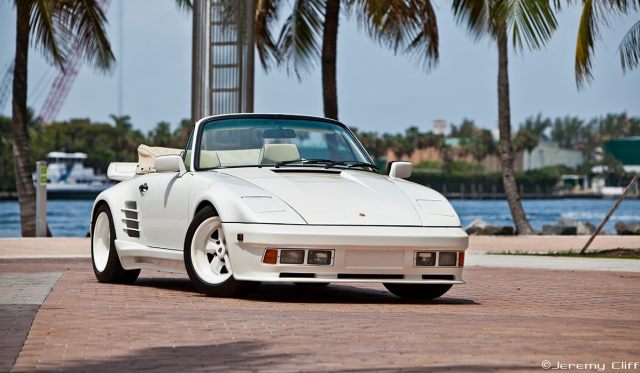 German Porsche tuner and specialist Gemballa revealed a white Porsche 911 Turbo Cabriolet Flatnose III in Miami, Florida. The photoshoot by Jeremy Cliff allows us to see just how wild and beautiful the German sports car could get. Being a cabriolet, this is one of the rare ones to receive the Flatnose treatment, especially from Gemballa.
The idea of retrofitting flat noses to the front of current and past generation Porsche 911′s was born out of a need to reduce aerodynamic drag, all the while retaining enough downforce to save the car from becoming too light at the front-end. The front nose look came into its own in the early 80′s, as tuners and racers alike saw the benefits a sloping front nose would bring to the already ever-popular 911 chassis.
The Flatnose III by Gemballa features nothing short of what Gemballa's reputation suggests. For example, the car features a custom white interior with Gemballa embroided on the custom steering wheel, matching the exterior theme. White dials are surrounded by black accents while white leather seats emphasize the whole idea.
Weight reduction is also key here in the form of a fiberglass flat front nose in addition to brake cooling side ducts which reduce the car's weight. Other options such as a strengthened rear wing were added to help create the downforce required to keep such a car on the road.