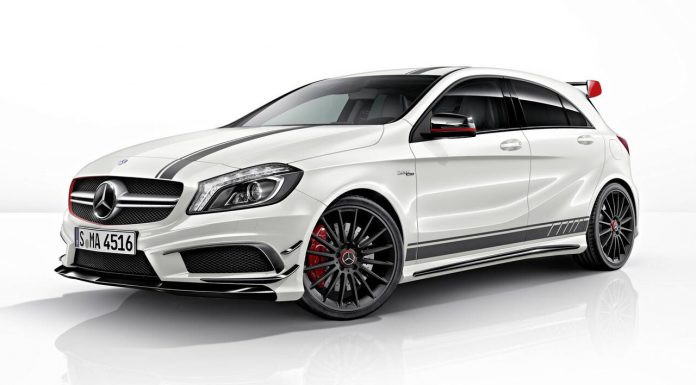 The Mercedes-Benz A45 AMG has only just been released, and reports have already surfaced suggesting that no less than three other AMG-models are being developed to share the A45 AMG's underpinnings.
The first car off the ranks should be the Mercedes CLA45 AMG, currently pinned for a debut at 2013 New York Auto Show in March. As evidenced by the '45' nameplate, the CLA45 AMG will feature the same 2.0-liter four-cylinder turbocharged engine as the Mercedes-Benz A45 AMG, thus meaning it'll produce an equal 355hp.
Next up, we'll see the debut of the Mercedes GLA45 AMG SUV at the Frankfurt Motor Show in September which will also feature the same powerplant as the A45. And finally, a Shooting Brake variant of the Mercedes CLA45 AMG is then rumoured to make its public debut at the 2014 Geneva Motor Show.
As a result of the CLA-Class only being marginally larger in size than the A-Class, expect the CLA45 AMG and Shooting Brake variant to have similar performance specifications to the Mercedes-Benz A45 AMG, meaning a sprint to 100km/h in just 4.6 seconds and an electronically limited top speed of 155mph is likely.
The larger stature of the GLA45 AMG SUV however, means it'll be slightly slower off the line.
[Via Autocar]