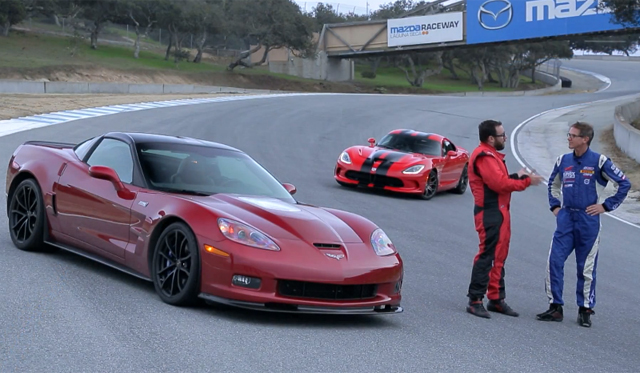 Despite the age difference, the 2013 SRT Viper GTS and Chevrolet Corvette ZR1 are matched extremely closely when it comes to their power outputs, with the new Viper pumping out 640hp from its 8.4-liter V10 engine while the ZR1 produces just 2hp less, at 638hp from its supercharged LS9 V8 engine.
The most impressive thing about the Viper however, is the fact that it's SRT's base Viper model and will likely receive performance and visual upgrades in the coming years. On the other hand, the Corvette ZR1 is the ultimate, and most powerful Corvette ever produced by GM and is the absolute ultimate epitome of this American classic.
As a result of their similarities, Motor Trend's Jonny Lieberman found it hard to distinguish between the two on public roads when conducting the following Head2Head test between the two cars.
So what does all of this mean? It means that we have one of the greatest American supercar battles ever on our hands, and a thoroughly enjoyable car review video!