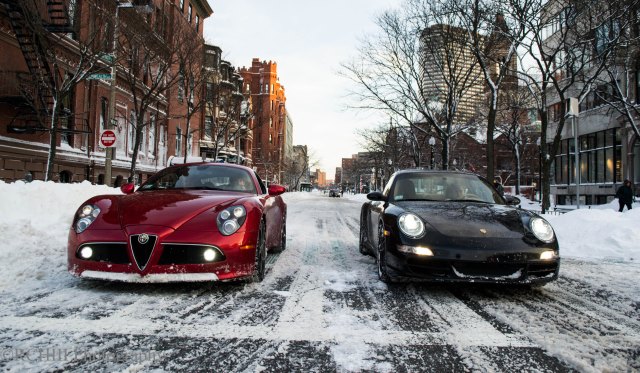 The snow season is always a perfect time to drift around and do some photoshoots with a some exotic cars. The latest snow shoot to reach us is from RCHII Photography done by Rob Hanley and features a red Alfa Romeo 8C and a black Porsche 997 Carrera S. Its possibly the first Alfa Romeo 8C ever to drift around a snow covered Boston and do donuts in the snow.
The Porsche is black and has a strong contrast with the snow. It has black finished wheels complementing its overall theme, as for the Carrera S, the powerhouse features a 3.8 liter flat 6 engine altogether capable of going 0 to 97 km/h in 4.7 seconds, and carries a top speed of 300 km/h.
The limited edition Alfa Romeo Sports car features a 4.7 Liter Ferrari V8 placed in between the front wheels and curves shaped to move air around the vehicle. It's able to develop 444HP and 350lb-ft of torque that allows the car to accelerate from 0-60mph in just 4.2 seconds and a top speed of 181mph.