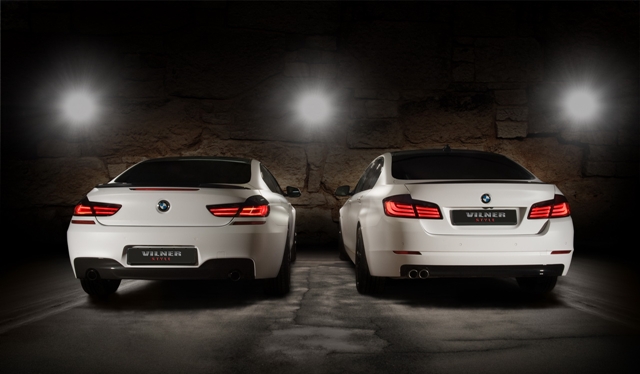 Two new BMW models, the 5-Series F10 and 6-Series M F12 have received a full series of modifications from Vilner. Both vehicles were wrapped in matt white, which makes them look almost like twins. Furthermore the exterior modifications include new rear hood spoilers, graphite black wheels and a rear light makeover.
The interior of the 5-Series was entirely reupholstered. The white theme is continued inside the coupe with contrasting accents in black and red on the panel, the upper part of the doors, the seatbelts, the middle part of the seats and on the steering wheel. Moreover, the rearview mirror has also been wrapped in Alcantara.
The interior of the 6-Series has been partially adapted. The steering wheel was modified with additional elements in ivory Alcantara. In addition, the airbag, the roof, the back of the rear seats, the rearview mirror and all plastic elements of the seats were wrapped in Alcantara.