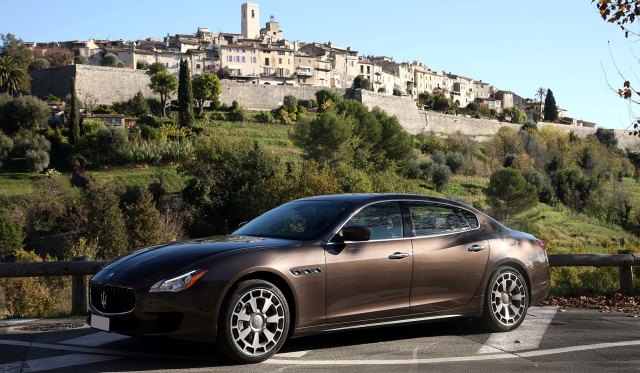 Maserati recently completed a grand tour of France with two of their new Maserati Quattroporte. The photos reveal both cars blending into all of the stops along the way! Maserati revealed the new Quattroporte officially at this year's Detroit Motor Show.
The new luxury sedan is part of a plan to increase production to 50,000 units a year by 2015. The 2013 Maserati Quattroporte is one of three new models due to be unveiled as part of the new plan. Its style conforms to the classic Maserati design principles blending dynamic lines with classic Italian elegance.
Just a reminder, Maserati is offering the new Quattroporte with a 3.8-litre V8 and a 3.0-litre V6 engine, both of which are twin turbocharged and mated to an 8-speed automatic transmission driving the rear wheels. The V6 engine develops 404hp and a maximum torque of 550Nm making a 0-100kp/h sprint in 4.9 seconds and a top speed of 285kp/h. The V8 produces 523hp and 710Nm of torque for a 0-100km/h time of 4.7 seconds and a top speed of 307km/h.