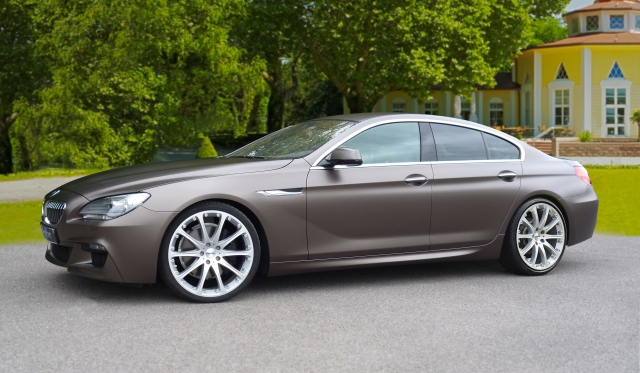 BMW specialist and tuner Hartge has released its latest tuning program for the BMW 6-Series Gran Coupé. Hartge are offering two engine conversions based on the 640i platform with twin scroll turbochargers which offers 320hp as stock. Power for the BMW 6-Series Gran Coupé by Hartge increases up to 367hp at 5900rpm and 520Nm of torque at 2950 rpm.
The other conversion is based on the 640d trim which features 313hp in stock trim. The Hartge package ups that power to 362hp at 4400rpm and 730Nm of torque at 1800rpm. The suspension also receives a series of modifications.
The BMW 640i gets the Hartge Sports Spring set at 25 mm lower at the front and 20 mm lower at the rear. The BMW 640d gets a similar package but with adjusted ride heights. The diesel saloon sits 30 mm lower at the front and 25 mm lower at the rear.
The exterior features include a Hartge emblem on the bonnet and boot lid while the interior features a set of Hartge aluminum pedals for the automatic gear box, aluminum emblem for steering wheel and a set of Hartge floor mats.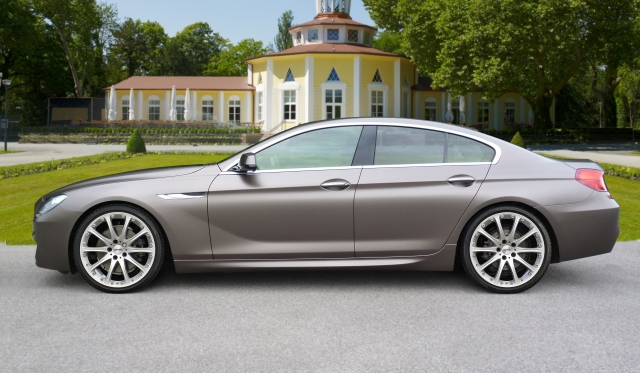 To produce the extra power, Hartge increased airflow through the use of a Hartge stainless steel cat back exhaust system consisting of Hartge stainless steel middle silencer and stainless steel rear silencer with dual round tail pipes measuring 80mm.
The last part of the design is the wheels which Hartge say can be equipped with either Continental or Pirelli tires. The current wheels offered for the 6-Series Gran Coupe include the Hartge Ultima Silver and smokey Silver wheelset and the Hartge Classic 2. All wheels come with Hartge centre caps.