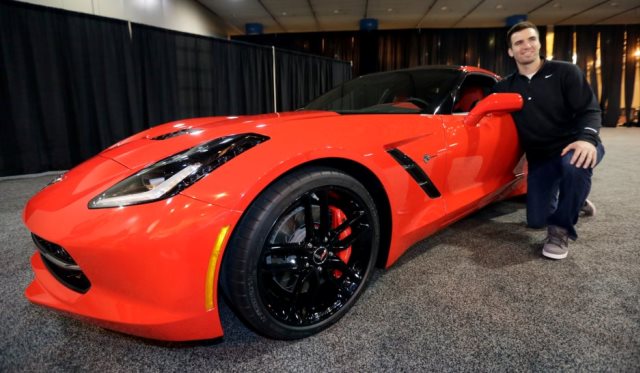 Super Bowl MVP Joe Flacco Gets a 2014 Chevrolet Corvette Stingray. Chevrolet gifted the brand new supercar to Joe Flacco the quarterback of the Ravens, the winning side for the 2013 Super Bowl. The Corvette Stingray was also present in the big game though not getting much exposure as expected.
Super Bowl MVP Joe Flacco gets to walk away with the new car, the most powerful base Chevrolet Corvette ever produced! It features an estimated 450hp produced through a new generation LT1 GM V8 engine. As a result, the new car surpasses the previous generation base C6 substantially in every performance aspect and is able to launch to 100km/h in under four seconds. It pulls over 1G when cornering and is able to stop from 100km/h in a similar time to the Z06 Corvette.
Super Bowl MVP Joe Flacco will receive his 2014 Corvette Stingray once production starts. Of course, his will be the second unit, with the first promised to Rick Hendrick, the current owner of the American NASCAR team Hendrick Motorsports, who paid $1.1 million for the privilege at a Barrett Jackson auction recently.