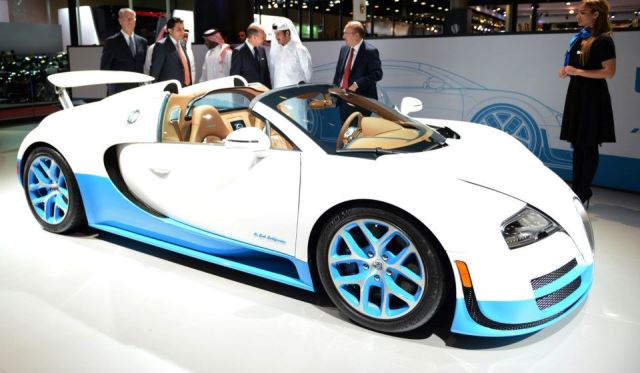 The 2013 Qatar Motor Show finally closed its doors on 2nd February having displayed some great cars including the new Arab supercar, the W Motors LykanHypersport. However, the show would not have been incomplete without the appearance of some of the top predators in the industry. That's why Bugatti were showing one of their latest cars, the Bugatti Veyron Grand Sport Vitesse.
The Vitesse is quickly becoming defined by the white-light blue colour combo. Of course, this is the same example that reportedly sold for a price of $2.5 million at last year's Pebble Beach event. Its built to commemorate Jay Leno's 1928 Bugatti Type 37A.
The Vitesse is of course a varient of the Bugatti Veyron Grand Sport but with a Super Sports engine making it the fastest production roadster ever produced and that's because of the following figures. 1200hp and a maximum torque of 1,500 Nm, enough to make a zero to 100km/h (62 mph) sprint in just 2.6 seconds. Top speed is 410.3 km/h.
The event also saw Bugatti welcome His Excellency Sheikh Hamad bin Jassim bin Jaber Al Thani, Prime Minister and Minister of Foreign Affairs of the State of Qatar to view this iconic car.