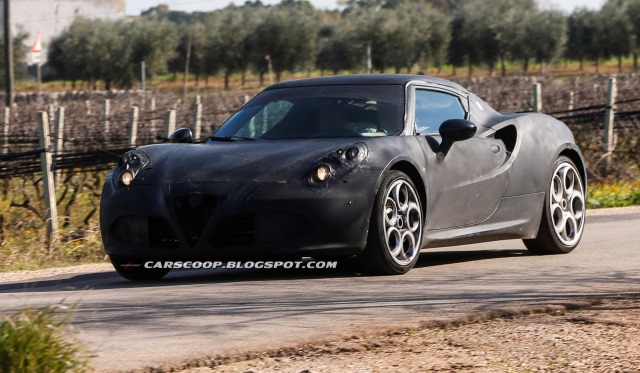 The Alfa Romeo 4C has been spotted testing in Europe according to the latest spyshots from Carscoop. Despite wearing heavy camouflage, the car looks to have retained many of the details we first saw with the Alfa Romeo 4C GTA concept shown at the 2011 Geneva Motor Show.
The images come shortly after Fiat and Chrysler CEO Sergio Marchionne confirmed that the new 4C sports car will lead the brand's return to America. The 4C's engine will be all Italian though, Chrysler engines would not work for the 4C. The 4C should see the first rear wheel drive sports car from Alfa Romeo since the discontinuation of the 8C Competizione coupe and spider.
The powerhouse will likely be based upon the concept Alfa Romeo showed us two years ago. Expect a 1.7-liter turbocharged four-cylinder engine producing 300 or more horsepower direct to the rear wheels mated to a dual clutch transmission.