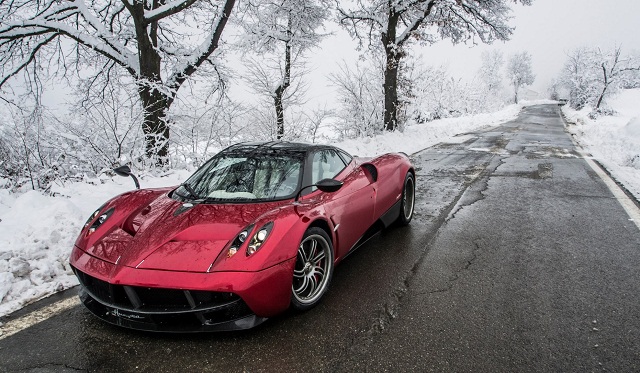 The combination of huge power, twin turbo's and rear wheel drive probably isn't the last word in safety during icy conditions. Especially when you throw it all into the Italian foothills near Modena. It seems that this didn't bother Pagani too much during the recent cold spell. They took the Pagani Huayra out into the cold for an awesome photo-op!
The pictures below sets a very wintery scene. The Hauyra, complete with track pack front spoiler lip, looks epic among the white Italian landscape. Its hard to imagine what it feels like to drive such a car in those conditions.
By way of reminder, the Huayra features a unique 6.0 litre Mercedes-AMG twin-turbo V12 with 730 horsepower and 1,000Nm of torque. The power and enormous torque is transferred to the rear wheels via a seven-speed sequential gearbox and a singe-disc clutch. It takes just 3.2 seconds to reach 100km/h, terminal velocity is over 370km/h.