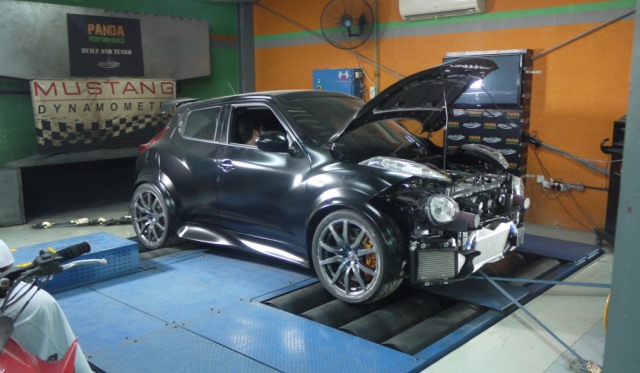 The Nissan Juke-R is made by Nissan Europe Technical Centre in Cranfield and an UK motorsport engineering firm called RML who put the powertrain of a Nissan GT-R into a Nissan Juke bodyshell to create the world's fastest crossover. JM-Imports, an importer of Japanese tuner cars based in the UK, got involved in a project based on two Juke-Rs for a client in the Middle East, at a time when only prototypes were available from RML, the project began way back in 2012.
JM-Imports got lucky and managed to get two new Juke-Rs with chassis code 001 and 003, this was after visiting RML headquarters to learn more about the prototypes before heading to Dubai to finalize the deal. After their trip, RML was ready to start working on the two new R35 GTR LHD; alongside the Jukes. These were built to a cost of 500,000 Euros each.
After RML completed their part of builting the two stock Juke-Rs, a new tuner came into play with one mission, adding more power to the Jukes. The tuner is SP-Engineering whom we have featured here before, Juke 001 would stay on the Cobb while 003 was tuned by Ryan at Syvecs another tuner based in UK. After several tuning works, one of the Jukes was put on the dyno and managed to record 1053 whp.
Both Jukes were painted in black as opposed to before where 001 featured Nismo White while 003 had Matte Black.
The video below shows the Juke setting 1,053whp on the Dyno.