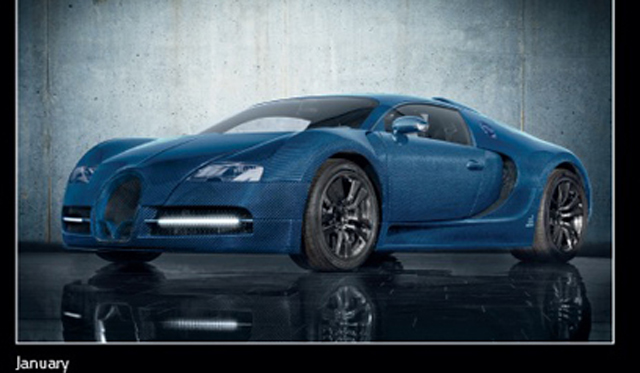 The Mansory Linea Vincero d'Oro is without a doubt the most extreme take on the Bugatti Veyron ever released by an aftermarket tuner. That particular car has recently been spotted doing the rounds in Beverly Hills and in that time, a small snippet of Mansory's latest Veyron creation has been scooped from their 2013 calendar.
Featured in the month of January, the car will feature a similar front grille to the Linea d'Oro as well as similar LED daytime running lights. The most significant change however will be the blue carbon fiber finish completing this unique Veyron, which is expected to be an optional extra for customers.
In saying that however, we can't imagine that more than a small handful of Mansory's new Veyron will be ordered excluding the one-off press car, as many Veyron owners would like to keep them completely stock in an effort to not destroy their value as the French supercar will inevitably become a collector's item a few decades down the road.
Although nothing has been confirmed by Mansory just yet, it's possible their new Veyron could be released at the upcoming 2013 Geneva Motor Show in March.
[Via Mansory]