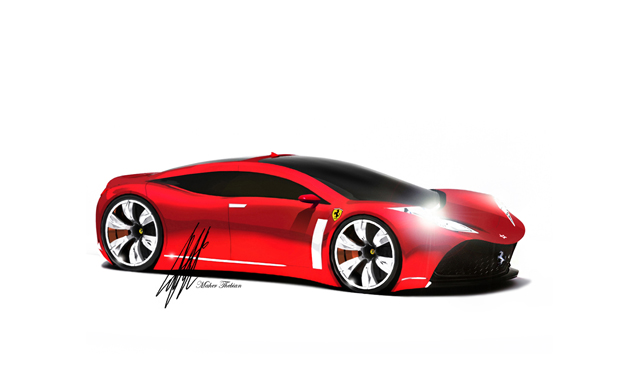 While not a Maranello approved concept, the Ferrari Elegance four-door rendering by Saudi Arabian artist Maher Thebian is an adequate addition to the growing stable of fan-created four-door Ferrari concepts.
Aside from the artist's DeviantArt page, where many other concepts can be seen, little information can be gleaned as to where the inspiration for such a striking car may have come from. It some respects, the concept looks reminiscent of the cars featured in the 2002 blockbuster Minority Report. The front fascia is quite similar to the recently released McLaren P1 concept, which can be viewed as an element that either ruins or makes the design.
After perusing Maher's various other pieces of artwork, the Elegance concept uses much of the same design language: a futuristic, Minority Report type flair. To be honest, the design appears a bit rough around the edges, but the overarching idea of a low-slung, swooping 4-door Ferrari does show. And what does show looks quite promising.
Rumors have been speculating for years about Ferrari creating a dedicated 4-door supercar to compete with the likes of the Porsche Panamera and Aston Martin Rapide, but the only solid piece of news has been the consistency at which the rumors circulate. At this point, it appears it is up to Ferrari fans like Maher to help visualize the next-generation of Ferrari supercar.
Take a look at the Elegance Concept for yourself and tell us what you think. Is it cool? Or not? Check out his DeviantArt page for more.