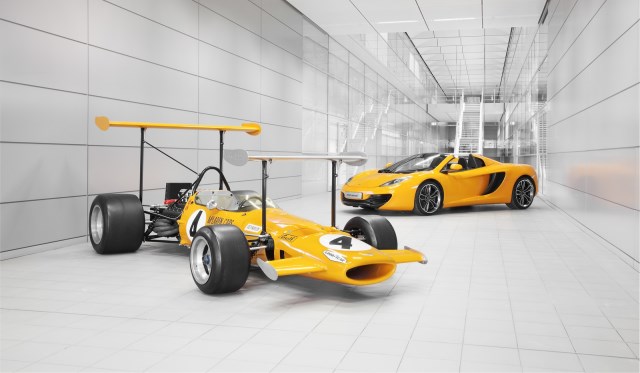 On September 2nd 2013, the McLaren Group will celebrate its 50th anniversary. 'Life is measured in achievement, not in years alone.' Those were words said by the 27-year-old Bruce McLaren 1964 when his new company Bruce McLaren Motor Racing Ltd was less than a year old.
McLaren has a cause to celebrate, they have had some great achievements which include their Formula 1 team becoming a global household name; since its arrival in the sport at the 1966 Monaco Grand Prix, they have won more races (182) than any other constructor and have started from pole position 155 times and scored 151 fastest laps. In 2012 they achieved the fastest-ever time for a Formula 1 pitstop (2.31s at Hockenheim) and have now led more than 10,000 racing laps.
In the road cars scene, they introduced the McLaren F1 in 1993 which is still the fastest naturally aspirated production car in the world. The next car was the Mercedes SLR McLaren introduced in 2003 and which became the best-selling carbon-based car ever. The McLaren MP4-12C coupe and spider are their current new models with the P1 and X1 expected in the future.
Ron Dennis CBE, executive chairman, McLaren Group and McLaren Automotive, said:
McLaren's history is long and storied, but McLaren's legacy is harder to define – and that's because it's still being vividly written every day by the dedicated men and women who work at the McLaren Technology Centre.

Bruce McLaren wrote the beginning of the story, and the legend is going to continue for many years to come. I'm only a chapter, not the book, and I want other people to come in and write their own chapters as time goes by.

This is a book that's still being written, and that, perhaps, is the greatest legacy of McLaren.