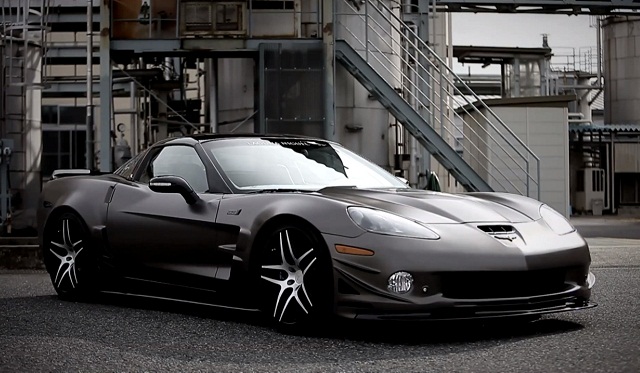 RK Design unveiled a custom Corvette ZR1 for the 2013 Tokyo Auto Salon. While the new Corvette has only just been released, the old car still looks extremely fresh. Especially the top-of-the-range ZR1 variant. Of course, its quite rare to see a left-hand drive Corvette on the streets of Japan, a country of predominantly left-hand drive cars. Its even rarer to see a modified version!
The RK Design Corvette ZR1 features a range of simple updates that give in a devilish new look. The aggressive updates include a new front bumper with carbon fiber side winglets and a new set of circular fog lamps. Carbon fiber winglets have also been added to the rear wheel arch. At the back we get a new rear diffuser, dual central exhaust exists, a slightly larger rear wing and a carbon fiber roof diffuser.
RK Design have also added their own set of magnesium forged alloy wheels. The Corvette's interior has also received a complete overhaul with a new grey alcantara dash board and quilted alcatara rear parcel shelf. The alcantara is accented by black leather and black plastic. Stitching is also accented in a light shade of yellow.
Performance enhancements are as yet unknown. The Corvette ZR1 features a 6.2 liter V8 powerplant. The LS9 is supercharged for a peak output of 638hp and 819Nm of torque. The matte grey and carbon fibre match the nuts performance figures!
Let us know what you think of the design in the comments box below.