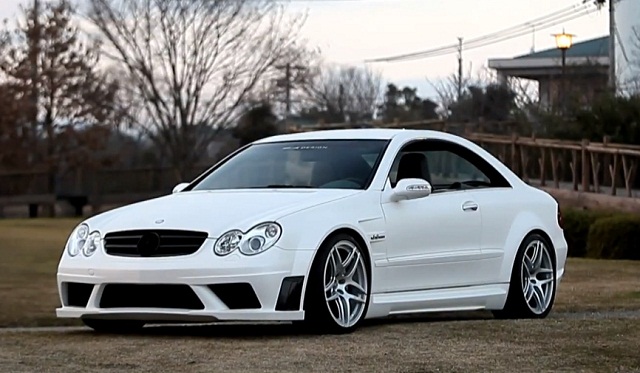 Despite having only emerged onto the supercar market in 2007, the standard Mercedes-Benz CLK 63 AMG Black Series is starting to look a little old beyond its time. We've seen several solutions to this, offered from various wheel manufacturers and aftermarket tuners. This time its the turn of RK Design, a Japanese fledgling tuning company!
This particular car debuted recently at the 2013 Tokyo Auto Salon. RK Design added a set of forged magneium wheels, a new set of side skirts and a complete new interior. Its a subtle OEM+ tuning project that refreshes the looks and feel of an aging design.
As the video reveals, the project features a bold matte white paint scheme combined with black accented trim pieces. The interior benefits from a subtle blend of alcantara, leather and contrasting yellow stitching. Its a very unique project.
The Mercedes-Benz CLK 63 AMG features a 6.2 liter V8 pumping out a steady 500hp. That may not be a particularly massive figure compared to todays supercars, yet it earned respect amongst owners, not least Top Gear's Jeremy Clarkson. Its unclear whether performance has been further enhanced for this example.
Take a look at the excellent video and our pictures in the gallery below. Afterwards, let us know what you think using our updated comments sections below!