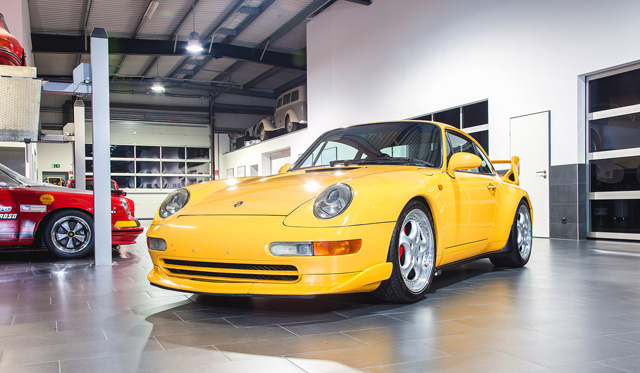 Pannhorst Classics, a classic car dealer based in Germany has recently got their hands on a very special and sought after 911; a 1995 Porsche 993 Carrera RS. The Carrera RS variant of the 911 (993) was a lightened and tightened version of the already quick Carrera. The naturally aspirated 3.8 liter engine was good for 300hp, give or take, back in 1995.
Some easily reconginizable features were implemented by Porsche in order to set the car apart from the other versions in the 911 range. The rear of the car features a non-retractable rear wing, and special three-piece 18 inch aluminum wheels adorned the sides. In an effort to save weight, the headlight washers were deleted.
The Carrera RS was produced from 1995-1996, making it a very collectible car the moment the factory doors shut. The car was never homologated for import into the United States, although it could grace the shores of any European country the owner wished. The Carrera RS variant spawned the popular art of creating "clone" RS cars here in the States, a practice that is looked upon with mixed feelings by much of the Porsche enthusiast community.
You can check out the full listing for the car right here. The current asking price is a cool 174,900 euro.