Forge Motorsport has officially revealed their intercooler kit for the current Audi RS3. Using the knowledge and data gathered during the R&D of its TT-RS kit, Forge's design team knew where they needed to start with the RS3 setup.
Beginning with a significantly larger core size to allow for more surface area and cooling efficiency than the stock core, the Forge part now uses up all the space the Audi had failed to take advantage of. Measuring in at a gargantuan 530x130x225mm and featuring a 'bar and plate' style core, the new intercooler's end tank design also rather cleverly allows standard boost hoses to be retained for a simple fitment.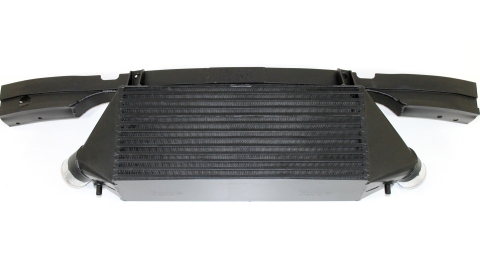 Temperature drops of 25° C at the intercooler outlet compared to stock were also recorded (The stock 'cooler peaked at 60°C, with the Forge unit only showing at 35° C in 21° C ambient temperatures) The intercooler inlet temperature dropped significantly too, compared to the stock core, indicating that along with reducing the differential pressure across the core, the turbo is not working as hard, to achieve at least the same – and often much better – results.
Total fitting time is under three hours and can be carried out at home by anyone with the appropriate tools. The Forge Audi RS3 Intercooler is priced at £799.00 plus VAT.