According to Jokeforblog, recent trademark filings in the European trademark office show the first images of Audi's hot version of the A1, the RS1.
The styling elements common of Audi RS variants are all present, varying from the normal A1. While the color of the car is simply for trademarking purposes, the five-spoke wheels are generally likened to be on Audi RS models, as opposed to their less powerful base models. The bodykit shows revised front/rear bumpers, mirrors in addition to more aggressive side skirts and a prominent rear wing/spoiler affixed to the rear hatch.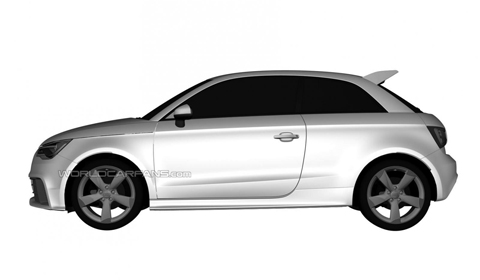 Although some are speculating the car is actually a redesigned A1 Quattro, but the design is a little too drastic a departure for it not to be a special variant. The stock A1 Quattro is powered by a 2.0 liter four cylinder engine good for 265hp and 258lb-ft of torque. However, the smart money has been betting on a modified version of the 2.5 liter five-cylinder to be adapted for the RS1.
Expect more soon!
[Via WorldCarFans]