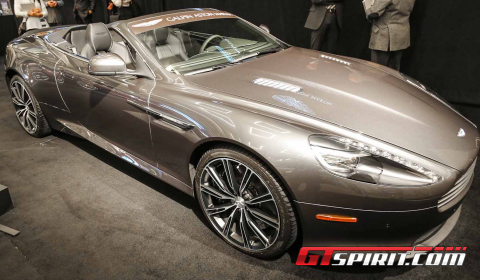 Aston Martin has released its updated 2013 Aston Martin DB9 to the US public at the Los Angeles Auto Show 2012. The new model replaces the old DB9 and the Virage in one single move.
Aston Martin attempted to adopt styling changes that are reminiscent of the outgoing Aston Martin Virage, so the DB9 gets a more pronounced rear boot lid spoiler, a large lower front grille with five horizontal vanes, a new front splitter, zinc bonnet vents and characteristic Aston Martin side stakes. Overall, the track is wider and the rear arches have a more muscular feel.
The engine is a new-generation V12 unit using technology developed for the upcoming Vanquish. The headline figures are 517hp and 620Nm of torque, improvements of 47hp and 20Nm respectively over the outgoing model. The 2013 DB9 also gets bi-xenon headlights and LED side-repeaters.
Both Coupe and Volante body styles will be available from launch. 2013 Aston Martin DB9's are available to order now through Aston Martin dealers worldwide. For more information on the new model check out our official story!
[Photos by Effspot Photography]