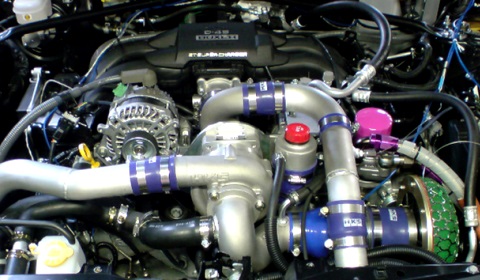 HKS has created a supercharger kit named GT S7040L for the Toyota GT86, Scion FR-S and Subaru BRZ. The kit appeared to the public during SEMA 2012.
At the annual tuner show Evasive Motorsports revealed a Scion FRS with a HKS GT Supercharger Kit and a test pipe that lifted its output from 153.9whp and 128lb-ft of torque to 225.5whp and 182lb-ft of torque on the dyno. HKS has confirmed that its kit will increase power from power from 157 horsepower to 235 horsepower at 6,300rpm. The project car used by HKS attains a power close to the 400hp mark.
The full kit will cost $6,000 and it includes a supercharger assembly, traction oil, installation bracket, suction pipe and blow off, intercooler assembly, intercooler pipe, an ECU adjustment and additional bracket parts. Fitment requires minimal changes such as moving the radiator frame to allow for room to mount the boost pipe.
The video below is of a Scion FR-S from Evasive Motorsports on the dyno with the HKS Supercharger Kit.