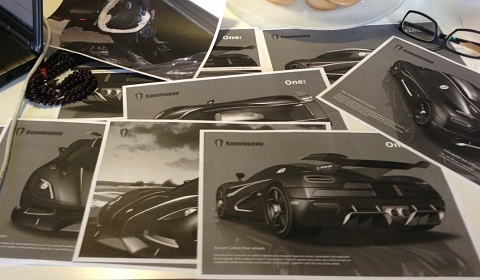 CarsUK managed to extract a few details out of Christian von Koenigsegg following the photos of the Koenigsegg One:1 we keep stumbling across. At the moment, Christian is travelling between Bangkok, Hong Kong and Dubai selling cars and presumably delivering vehicles such as the Koenigsegg Agera S we saw last week.
The Koenigsegg One:1 is apparently a limited production run of just five cars, all destined for Chinese dealership FFF. The name, One:1 refers to the car's power to weight ratio – 1hp for every 1kg. At the moment, the Agera R weighs just 1,290kg and with 1,144hp which works out at 0.88hp per kg at the moment. Presumably, additional modifications would add additional weight, therefore, we think between 1,300 and 1,350hp would be possible.
Of course, the engine will remain the same as the Agera R, Koenigsegg's unique twinturbocharged 5.0 liter V8 engine. Of course, the project is in its early stages at the moment which is why the photos we have at the moment are all of design renderings. The full price for each version is rumoured to be around the $2 million mark.
The Koenigsegg One:1 gets a radically changed design compared to the other Koenigsegg special editions we have seen before. The design features carbon fiber wheels, a new front fascia with a more aggressive lower front splitter and a fixed roof with an air scoop made of carbon fiber. At the rear, you will see a massive rear wing along with a completely redesigned rear end with a new diffuser and exhaust tips. The roof and the wing are linked by a horizontal surface similar to the Pagani Zonda 760 RS.