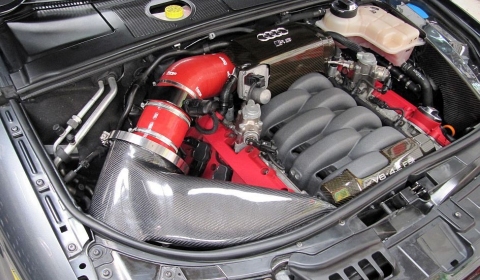 Induction expert Pipercross has released a new intake system for the B7 model of Audi's immense RS4 models via tuner, Revolution. The new carbon intake kit contains everything needed to fit, which takes around 2.5 hours and requires the removal of the front bumper.
The intake itself is hand-finished carbon fiber with optimised airflow dynamics in order to bring the maximum possible cold air into the engine. A large diameter conical filter lies atop a bespoke CNC-machined MAF housing and inlet tract. All SamcoSport silicone hoses and stainless steel are included in the kit.
The filter inside uses a unique multi-laminated open cell polyurethane foam construction, meaning the Pipercross kit can actually filter down to a much finer rate than the OEM part, preventing any foreign particles from entering the induction tract and protecting the engine. This same construction means that the filter can also go longer between service intervals than even leading cotton-gauze filters, before needing to be cleaned.
The complete kit is priced £649.99 plus VAT.