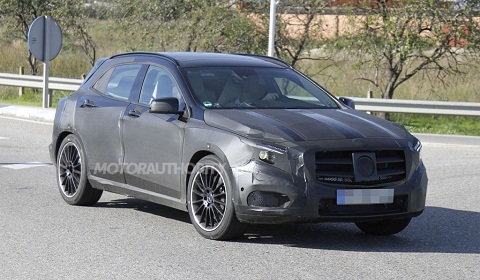 The second in Mercedes-Benz's assault on the lower value performance market will be the GLA45 AMG. The model on which it is based is yet to be released, however, we can now show you the very first spyshots.
The GLA45 AMG will be based upon the upcoming 2014 Mercedes-Benz GLA Class, expected to be revealed by the end of next year. The GLA is a crossover, built on the basis of the highly successful Mercedes-Benz A-Class, a platform is also expected to underpin the forthcoming CLA-Class.
The 2.0 liter turbo four engine will produce around 350 horsepower and 295 pound-feet of torque, with power being sent to all four wheels. The transmission will be an AMG Speedshift DCT seven-speed dual-clutch transmission. Both the CLA and GLA will be offered for sale in the US while the A-Class remains uncertain.
To view more photos head over to Motor Authority.