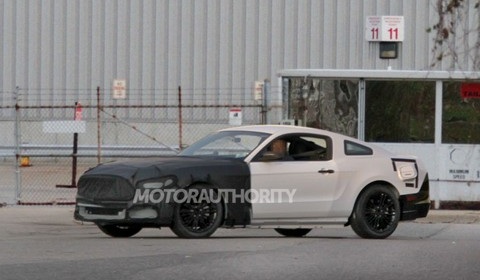 Only two weeks ago Ford told the world that they were not planning a 2014 Mustang Boss 302. Muscle car enthusiasts will look forward to the 2015 Mustang for a replacement to that model.
The official introduction is of course some quite some time away, but our colleagues from Motor Authority recently managed to capture a few spy shots of the next generation Mustang testing on American soil. We can expect the new car to feature several design changes, but the biggest changes will be found under the hood and in the interior.
Expected engines, with an eye on the environmental aspect, are an EcoBoost 2.0 liter four-cylinder engine followed by a similar but 2.3 liter unit. Next in the line-up will be a turbo powered V6 and as flagship we expect Ford to bring the GT500 with a 5.8 liter V8 creating an output up to 650hp. Follow the above Motor Authority link to see a gallery of photos.