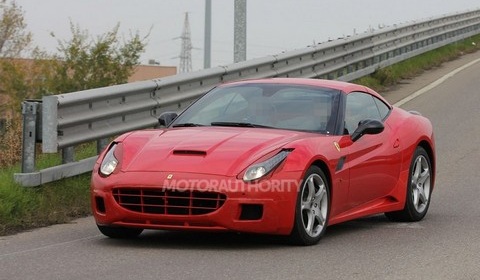 It appears that Ferrari engineers are busy testing several new cars due to be unveiled in the future. After receiving the latest details on the Ferrari F150, or the Enzo successor as most will refer to it, another pending Ferrari project has been spotted by Motor Authority's spy photographers while testing the 2015 Ferrari California.
The entry-level prancing horse currently comes with 490hp which is definitely worth the Ferrari badge. It's been a success so far so it appears that the Italians are working on a second generation of the car. What we can expect of the car is completely unknown at the moment, but many will hope for a more dynamic car with improved handling. It's expected that Ferrari will fit a twin-turbocharged V8, able to break the 500hp barrier. A sprint time from standstill to 100km/h could be possible in less than 3.5 seconds.
Next to testing their next generation California the Ferrari engineers are also using this mule to test several new car mechanical elements that will feature in the rest of the Ferrari line-up. Follow the Motor Authority link above for more photos.