Just over a week ago this unlucky Lamborghini Murcielago LP640 was in the process of having its MOT test, an annual test in the UK for cars older than three-years-old, when the mechanic driving it clipped a kerb and was spun into a parked Ford Focus.
The crash happened in Kendal, the north of England, when the Mechanic had taken the LP640 for a short road to test the efficiency of the brakes. This sort of test is usually done on a rolling road, but given the ground clearance and the fact the LP640 is a 4WD, the test was preformed on the open roads with the use of a brakeforce meter.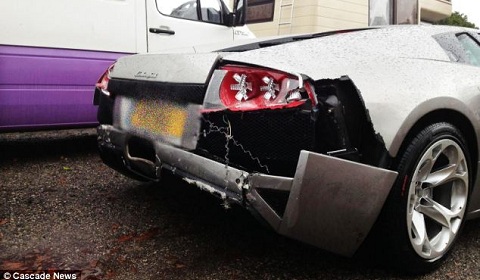 The mechanic says that the crash was a result of wet roads, leaves and a 'featherweight' accelerator, causing him to clip a kerb that spun him into a parked Ford Focus. The later stages of this can be seen in the video below.
The owner of the LP640 estimates that there is about £20,000 worth of damage to the car, and even when its fixed it's future resale value will be heavily hit due to the crash.
[Via The Westmorland Gazette and The Daily Mail]