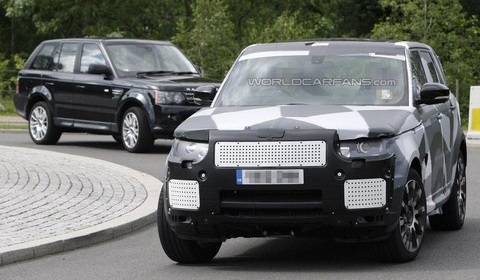 Land Rover is currently testing the 2014 model of their new Range Rover Sport model. In a recent interview with Car Advice, Land Rover's director of chassis engineering David Waide, said that the company is considering sportier offerings to capitalise on buyers willing to pay a premium for focused variants.
It's one of the areas which the business can expand. You've seen this with Jaguar and its XKR-S edition. They've done very well with the R-S model. So there's the ability to do those sorts of things with Land Rover product.
The director mentioned also that a potential Range Rover Sport 'R-S' would not relate to a Porsche Cayenne GTS, which he believes is the sportiest SUV in the segment.
If you compare [the XKR-S] with the Porsche equivalents it's not as sporty; it's as quick, it sounds fantastic, but it's also more comfortable. It's got a balance between GT product and ultimate sports car.
The chassis chief says he is also not chasing SUV-benchmark lap times on for instance the Nurburgring Nordschleife.
We're not interested in lap times per se. We're looking much more at the Nurburgring to show that we can stand up to a very sporty driving style on road. For some customers who want some level of track use. They don't buy that car thinking they can get the ultimate time around the Nurburgring for an SUV. What we are looking to do with the Range Rover Sport is provide a very sporty on-road experience, and it's more about driver reward and interaction and involvement. It's a car that you can really enjoy driving.
It looks as though the second generation Range Rover Sport will get the same characteristic sloping roof as the model it replaces. Expect styling cues to come from the highly successful Range Rover Evoque and weight saving measures by using the all-aluminium monocoque architecture from the new Range Rover.
For the first time the company will also sell a Range Rover Sport with seven seats, giving large families the option of buying a Land Rover that isn't a Discovery.