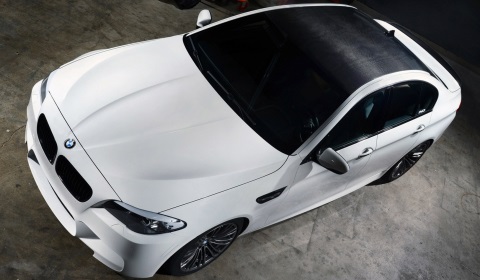 IND Tuning has been active with the BMW M5 F10 having showed us several programs based on it including the latest one they presented at SEMA 2012. This particular one highlights the Eisenmann exhaust system they used on an Alpine White M5 F10M accompanied with the video of the same.
Other than the exhaust, IND fitted it with an Eisenmann rear diffuser painted gloss black while the back, the car features a glossy black lip. IND then come in with their Cosmetic Package which constists of painted gloss black front grilles and side grilles in Alpine White with light LED tint.
The BMW was then set on BBS RE wheels sizing 20×9.5 in the front axle and 20×10.5 in the rear axle and in a painted silver finish. For the suspension, an adaptive Variant 3 coilover kit from KW was used to push the M5 more closely to the ground.