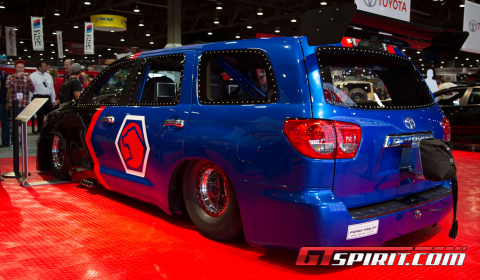 NHRA Top Fuel points leader Antron Brown created this extreme concept, which is on display at the Toyota booth at SEMA 2012. The drag racer is ment for four people and one youngster!
Brown's "DragQuoia" family dragster features massive 21.5 inch wide rear tires, 650 plus horsepower from a TRD-supercharged engine with nitrous and custom chassis fabrication. The team removed over 1,600lbs of non-essential weight.
To make it family-friendly, there are individual racing seats for four, each with its own five-point racing harness, plus a child-size version with harness in the back so junior can get in on the action. A full custom roll cage and a tail-mounted parachute are available as well.
Anyone want a ride?
[Photos by Effspot Photography]