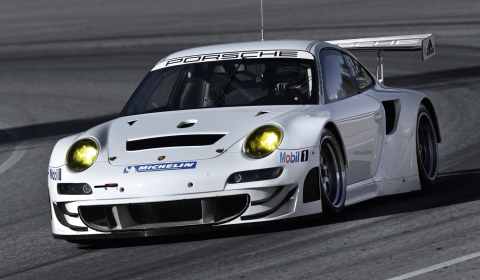 The 911 GT3 RSR is the de facto race platform for gentleman and professional racers alike. Porsche, unlike much of its on track competition, has managed to create a profitable, marketable business out of strapping go-faster bits onto the already spectacular GT3 platform.
Today, however, Porsche has confirmed that the North American debut for the revised 911 GT3 RSR is set for 2014. The entirely redesigned race car is based on Porsche's newest 911 framework – the 991. As of writing, no details in terms of engine, drivetrain or aero has been released but Porsche's global head of motorsports has confirmed that "Porsche will support the teams which continue  to race [the current-gen GT3 RSR]".
The current generation 911 GT3 RSR sports a 460hp, four-liter boxer engine mated to a six-speed sequential transmission. The car weighs in at a hair over 2,500 pounds. Aerodynamic development will continue for the current car, but with a significant bias towards the new, 2014 contender.
Note: the car pictured is the 2012 spec 911, not the 2014 model.