Porsche will return to Le Mans in 2014, where it will add another chapter to its racing history which includes sixteen overall victories at the famous 24-hour race. But there could be more in the pipeline as rumours are circulating that the Zuffenhausen-based carmaker might return to Formula 1.
According to German automobile magazine Auto, Motor und Sport Porsche's return to the Le Mans is merely a warm-up for F1. The German manufacturer has already hired people with Formula 1 racing experience, including Fritz Enzinger, Alex Hitzinger, Mike Krack and recently Sauber engineer Urs Kuratle. Perhaps these names don't ring a bell offhand, but in the Formula 1 paddock they do.
Fritz Enzinger was in charge of BMWs F1 Test and Race Organization, Alex Hitzinger is an engine expert who has worked for Red Bull Racing and Toro Rosso, and Mike Krack and Urs Kuratle were race engineers at BMW Sauber. The fact that Porsche has expressed its interest in more people from the world of F1 has raised questions in the paddock whether or not Porsche's ambitions are limited to Le Mans.
Besides adding new staff Porsche has booked hours in the McLaren simulator, one of the most sophisticated simulators in F1 which was also used during the development of the McLaren MP4-12C. The Porsche-McLaren connection is not new. In the 1980s the McLaren F1 cars were powered by Porsche-built, TAG-branded turbo engines which took two constructor championships in 1984 and 1985, and three driver championships between 1984 and 1986.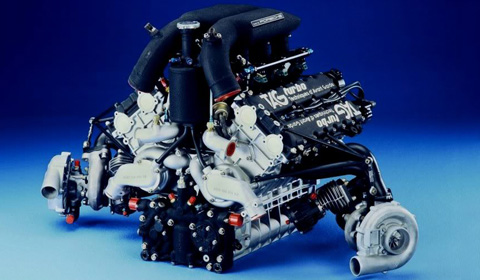 From 2014 new F1 engine regulations will be introduced, replacing the current 2.4 liter naturally aspirated V8s with more efficient 1.6 liter turbocharged V6s. McLaren is currently using Mercedes engines, but the British racing team will have to pay for these engines for the first time next year.
Porsche's chairman, Matthias Mueller, said two years ago that Porsche could return to Formula 1. He suggested that either Porsche or Audi ‒ both part of the Volkswagen Group ‒ would compete in Le Mans while the other would turn to Formula 1. Furthermore, Audi's motorsport boss Wolfgang Ulrich said Audi and Formula 1 "do not fit." Also Volkswagen have been linked with an entry in F1 on a number of occasions over recent years.
All in all there are a lot of reasons why Porsche could return to Formula 1. But on the other hand, recently news emerged the SUVs planned by Bentley and Lamborghini could be pushed back in order to save costs for parent company Volkswagen. If the VW Group wants to cut costs, than it surely won't invest in F1 during these difficult financial times.
Perhaps the simplest explanation is also best one and Porsche is only hiring experts for their Le Mans project, benefiting from the experience in what could regarded as the pinnacle of motorsport.
UPDATE: Porsche has denied the claims that it will return to F1. A spokesman said:
There has been significant investment in motor sport taking place in Weissach which is necessary due to our stated return to Le Mans in 2014. There are no plans for Porsche to enter F1. The World Endurance Championship is where our focus lies, not F1.
[Via Auto Motor und Sport, Autocar.co.uk and Pitpass.com]