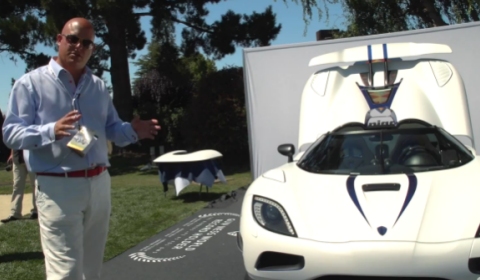 Christian von Koenigsegg walks us all around his latest extreme performance hypercar, the record-breaking 1,140hp Agera R. The Matt White supercar with blue and clear carbon fiber details is bought by the owner of Luxury4Play. He is the first owner of a Koenigsegg Agera R in the United States.
The engine details are roughly comparable to the price tag too; a 5.0 liter V8 rated at 960 horsepower on regular pump gas and up to 1,140 horsepower when running on E85 fuel with a max torque of 1,200Nm at 4,100rpm. Zero to 60mph takes just 2.9 seconds, top speed is thought to be 273mph.
The normal supercar styling is not left out from the package either. The Agera features a detachable hardtop with a glass roof, unique stitching, adjustable seats in rake and length, USB connection, climate control, digital warning and information system, G-sensor, alarm, tire monitoring system, silver key, leather carpets and much more.