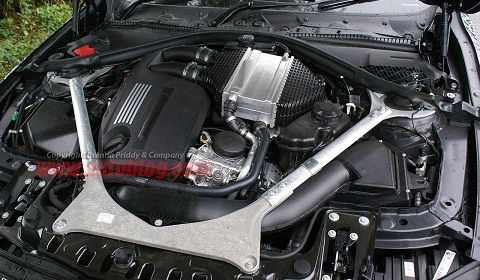 Rumors have been floating around concerning the engine for the next generation BMW M3 with predictions arguing that it will be a Turbo V6, Turbo inline-6, straight-6 with three turbochargers or a Supercharged V6. Well, a new set of photos have emerged that put an end to all these rumors. The photos show the engine bay of the 2014 BMW M3 and experts have come to a final conclusion.
Apparently BMW will be reducing the number of cylinders in the new M3, from the current naturally aspirated 4.0 liter V8 to a 3.0 liter inline six engine that will deliver about 450hp. Mated to this will be a seven-speed DCT and six-speed manual transmission. There are two pipes feeding the intercooler hence suggesting this could be a twin turbo engine. This setup appears to have a water-to-air intercooler similar to BMW's larger-displacement twin-turbo V8s, the current N55 turbo I6 uses an air-to-air intercooler.
It's most likely that the M3 had to take fuel mileage into consideration and returned to a smaller-displacement engine but from these new features we sure know BMW intends to make sure that smaller doesn't mean slower. The engine also comes with strengthened aluminum block and a heavily modified cylinder head.
This latest video is a compilation of the M3 around the Nurburgring race track and it looks so solid around those corners thanks to the the sturdy strut tower bracing as seen from the photos. More photos over at AutoBlog.