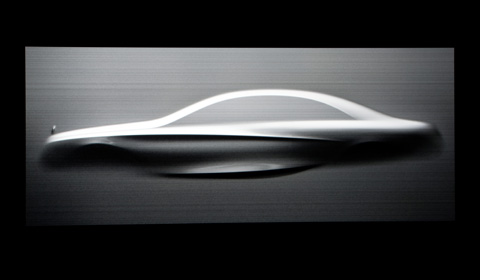 Mercedes-Benz will preview the upcoming 2014 S-Class at the Paris Motor Show, which will start at the end of this month. A sculpture titled "Aesthetics S" combined with a lighting show will offer a glimpse of the luxury saloon's design which will be unveiled at either next year's Geneva Motor Show or Beijing Motor Show.
The "Aesthetics S" sculpture interprets the exterior of a future luxury saloon in an artistic manner. Gorden Wagener ‒ head of design at Mercedes-Benz ‒ explains:
The characteristic lines of the S-Class have always represented the expression of automotive culture, as we understand it. The new S-Class will continue this tradition and, with its striking lines, will put a face to our design philosophy over the coming years.
The 2014 Mercedes S-Class will feature some design elements derived from the conceptual F700. Just as the new SL and CLS (Shooting Brake), the next-generation S-Class will likely use a larger and more upright grille design. But the overall and elegant appearance of the car won't change much compared to the current model.
The latest rumors suggests the S-Class will come in a total of seven variants. Besides the base and two stretched models, the S-Class will come as a luxurious S600 Pullman limousine which will fill in the void left by Maybach. Mercedes will also discontinue the current CL-Class and replace it with the revived S-Class Coupé. A full-size four-door coupe is rumored to be in the works as well. The true highlight will be a four-door cabriolet featuring a vast folding roof, inspired by the elegant Ocean Drive Concept unveiled in 2006.