Lamborghini choose Monterey in California to announce its 50th Anniversary celebration plans, which fall in 2013. During The Quail and Concorso Italiano CEO Stephan Winkelmann unveiled the logo for the company's 50th Anniversary celebrations, and also gave a preview of the program for next year's celebrations.
The celebrations to be held in Italy and abroad throughout 2013 will start in May, during the same week in which, fifty years ago, the company was incorporated and the inaugural foundation stone was laid at its factory in Sant'Agata Bolognese.
The Lamborghini 50th Anniversary Grand Tour will run the length of Italy and will be attended by Lamborghini owners and dealers from all over the world. From May 7-11, 2013, more than 1,200km of Italy's roads will roar with the thrum of hundreds of Lamborghinis. On Tuesday, May 7th, the cars will gather in Milan leaving the next day for Forte dei Marmi.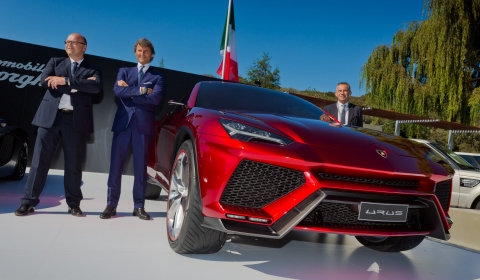 On Thursday, May 9th, they will set off towards Rome, with an evening arrival in the city center. On Friday, May 10th, the cars will depart towards Bologna, via Orvieto, arriving at Emilia-Romagna's capital during the evening. Saturday, May 11th will mark the closing day of the celebrations: the cars will head off in procession from Bologna towards Lamborghini's factory in Sant'Agata Bolognese, where participants will visit the museum, the production facility, as well as enjoy other Lamborghini experiences.
A gala dinner held at the factory will end a day packed with events and entertainment. At each stop, Lamborghini fans will be able to admire the cars. The Anniversary website – www.lamborghini50.com – will go live on August 17th, 2012. Until the end of 2013, the site will keep Lamborghini owners and fans informed with regular news updates about the celebrations, detailed information about the tour, as well as city stops and arrival times. Lamborghini owners and dealers can register for the tour beginning September 20th 2012.