Following a leak last month we can now show you five new official pictures of the upcoming 2013 Range Rover, which will make its official debut at the Paris Motor Show at the end of September.
If you look closely at the four exterior pictures, you can clearly see the more aerodynamic front fascia, thinner headlights and the design characteristics taken from the Range Rover Evoque. At the back of the new Range Rover the designers changed the rear lights and the shape of the rear door. On the sides, the air vents have been replaced by three vent-shaped contours fixated to the front doors. The roof line also changed slightly.
On the inside, we see a brand new steering wheel design with two specific control units and several new buttons and switches. The central main display is still there, so is the navigation screen in the center console and the signature rotating gear selector. It offers the driver the option to go from the D-for-drive detent to the S-for-sport setting and it rises from the center console. The cabin features a mix of exclusive leather and wood, and shares its design with the Evoque.
The new Range Rover will get a new lightweight aluminium chassis, benefiting from the know-how of Jaguar. Also, the new model will feature an alloy body shell and some components made out of composite materials. Land Rover is even planning the release of a longwheelbase version of the 2013 Range Rover featuring longer rear doors and more space for the rear passengers.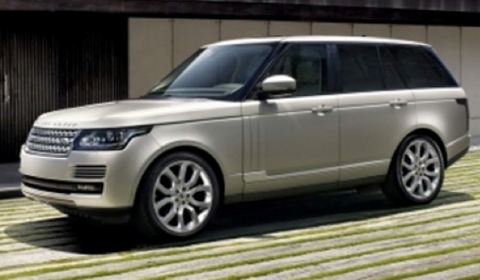 The 2013 Range Rover will receive a marginal increase in dimensions, but most important is the extensive use of lightweight materials which should improve the fuel economy, CO2 emissions and performance. It has been rumored that the new luxury SUV will loose almost half a ton of its weight compared to the current model, which weighs between 2,580kg and 2,810kg.
The new Range Rover will be powered by refined version of the current powerplants, including V6 and V8 diesels, and a petrol powered V8 in both naturally aspirated and supercharged formats connected to Land Rover's eight-speed automatic transmission. A hybrid model is in the works as well. Land Rover showed the hybrid powertrain with the Range-E Concept at the Geneva Salon last year.
The Range-E Concept was based on a Range Rover Sport and features a 3.0 liter TDV6 diesel with an eight-speed ZF automatic transmission. The engine is connected to a plug-in parallel diesel hybrid system that enables the Range Rover to achieve 89g of CO2. It has a hybrid range of 32km, a top speed of around 193km/h and a complete range of 1,112km.