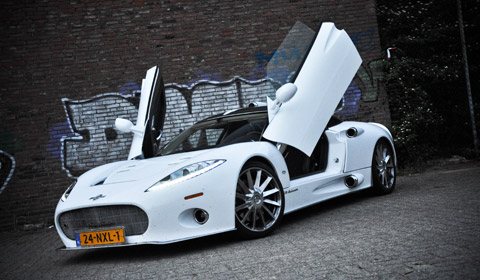 The Spyker C8 Aileron was introduced in 2009 at the Geneva Motor Show and since then it has been quiet with respect to the luxury sports car and the model line up. Following the end of the Saab saga and the latest lawsuit against General Motors, there is finally some news concerning the Aileron model series.
According to the Spyker spokesperson, the C8 Aileron is closer to a full production series. The only major hurdle to take is the engine. Currently, Spyker uses a 4.2 liter Audi engine producing up to 405hp, but for future models the Dutch car maker is looking for a more powerful engine.
Spyker has already tested a 6.2 liter supercharged V8 from the Cadillac CTS-V offering 560hp. But due to the huge lawsuit, the Americans at General Motors are not willing to settle an engine deal with the Dutch. Spyker will therefore have to find a new engine supplier.
There is still no decision on the exact specifications of the new engine but Spyker knows what they want. The number of cylinders, displacement, sound, and environmental requirements are set, according to Sander van Dijk, Marketing and Communications Manager at Spyker. He said Spyker will not go smaller than a V8 and they want at least 500hp.
The Dutch sports car maker has also appointed John Walton to be its chief commercial officer and head of its Americas unit. Walton, 53, used to be the US boss at Aston Martin. Walton will immediately take up the job and will report to CEO Victor Muller.