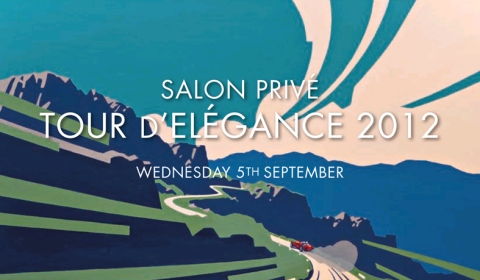 Salon Privé has announced the inaugural Tour d'Elégance to open London's Supercar Show and Chubb Insurance Concours d'Elégance in 2012.
In association with The Royal Automobile Club, the 21-mile tour will start at Woodcote Park in Epsom on Wednesday 5th September. A collection of thirty cars and motorbikes from the Concours will take the journey north, through Epsom Racecourse and Richmond Park to Syon House in West London, and the official opening of Salon Privé 2012.
Spectators are invited to watch the tour from several locations along the route, including Epsom Racecourse, Richmond Park, Richmond Bridge and Syon Park where the Salon Privé Supercar Show and Concours d'Elégance will officially open for three days from 5th – 7th September.
The cars confirmed for the Tour d'Elegance include:
1. Aston Martin DB6 Volanté
2. Aston Martin DB4
3. Austin 7 Doctors coupé
4. Corvette Stingray
5. De Tomaso Mangusta
6. Ferrari F40
7. Ferrari F40
8. Ferrari F40
9. Ferrari F40
10. Ferrari F40
11. Ferrari F40
12. Ferrari F40
13. Ferrari 166 Barchetta
14. Ferrari 250GT SWB
15. Ferrari 275 Spyder
16. Ferrari 330GT
17. Ford Mustang
18. Invicta S Type Low Chassis
19. Jaguar XK150
20. Lamborghini 350 GT
21. Lamborghini Miura
22. Maserati 3500GT Touring
23. Maserati 3500 GT Spyder
24. Mercedes-Benz Gullwing
25. Mercedes-Benz Gullwing
26. Ducati
27. Harley-Davidson Knucklehead
28. Harley-Davidson WLA
29. Moto Guzzi
Tickets for Salon Privé can be purchased at their official website. The full Tour d'Elégance line-up of 30 vehicles will be announced later this month.