Mexican news sources are reporting that an armed gang killed two bodyguards, injured a third and kidnapped a business man and his wife on Monday morning before burning a Lamborghini Gallardo. News reports have named the man as Diego Perez Machado who was abducted along with his wife while travelling on the road Zihuatanejo. It's reported that the victim had travelled from Mexico City with the aid of bodyguards.
Shell casing were found at the scene and crime scene investigators estimated that around 310 shots were fired from AK-47, AR-15 and 9mm pistols. The business man was travelling in a convoy with three other cars including a Dodge Charger and a Cadillac Escalade when armed men managed to stop the cars using several trucks.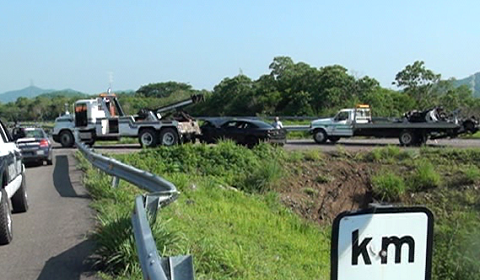 Information regarding what happened is still coming in. Needless to say, the Gallardo is totally wrecked.
[Via LaPoliciaca, Libertadguerrero and Luxury4Play]