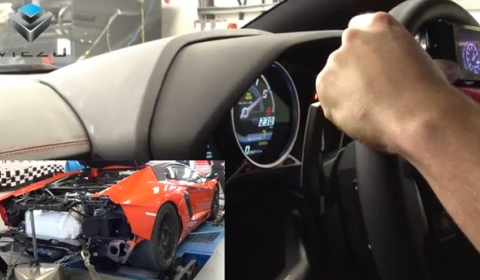 Specialist Viezu has released a video showing a flaming dyno run featuring a tuned Lamborghini Aventador. The supercar was taken to Viezu by tuner Oakley Design.
The Lamborghini Aventador dominated the dyno room at Viezu HQ as she was loaded on the rollers. It was a seriously huge car and it had so much form in the room. As the dyno loaded up with the Aventador the foundations of the building were shaking. She pulled up some good power and bang on the Lamborghini claim.
Thanks to ECU modifications and a titanium exhaust system, this Oakley Design Lamborghini Aventador can produce up to 783hp. The new titanium exhaust system saves around 35kg. New wheels, developed in conjunction with HRE Wheels, feature 5kg weight reductions. Wheel sizes are wider by half an inch at the front and an inch at the back improving road handling.
The Orange Aventador in this video has the same color as the rear-wheel-drive Aventador, which was officially shown at the Auto Italia 2012 event in May. We do not know if these are the same cars, and if the video shows a dyno run before it was finally converted to the rear-wheel-drive setup. If we know more, we will update our story accordingly.