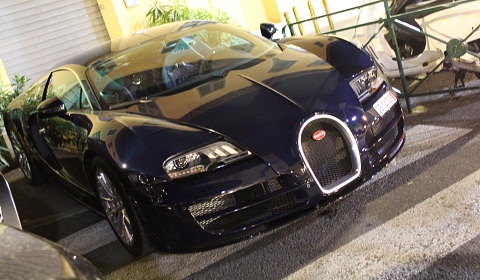 To be honest, spotting two Bugatti Veyron's in Saint-Tropez isn't big news anymore. Spotting two Bugatti Veyron Super Sports both with matching KAQ Edition badges, now that really is big news! TheCaraf spotted the two Veyron's you see in the videos below, parked in the same parking spot outside the VIP Room in the French port of Saint-Tropez.
It seems that both cars belong to the same owner as they feature Swiss number plates and KAQ on the headrest. The first is a carbon blue coloured Veyron Super Sport with a blue interior, the second is a one of five World Record Edition finished in matte black with contrasting orange details. Inside it has KAQ badging stating its '1 of 1 KAQ' designation. The stitching is orange while the interior is black!
Imagine having two Veyron Super Sport's to choose from! The Super Sport is limited to 40 pieces. Thanks to four enlarged turbochargers and bigger inter-coolers to boost the power of the 16-cylinder engine, the Super Sport has a total power output of 1,200hp. The torque is a mighty 1,500Nm. Top speed is electronically limited to 415km/h to protect the tires, the Veyron Super Sport is capable of going even faster. During tests this car reached a top of 431km/h, resulting in a new landspeed world record for production cars. The Veyron Super Sport needs just 2.5 seconds to reach 100km/h, 7.3 seconds to hit 200km/h and 16.7 seconds to reach 300km/h.
We're guessing that a Bugatti Veyron Grand Sport Vitesse will soon be joining this collection! Head over to TheCaraf's Facebook page for more similar content!