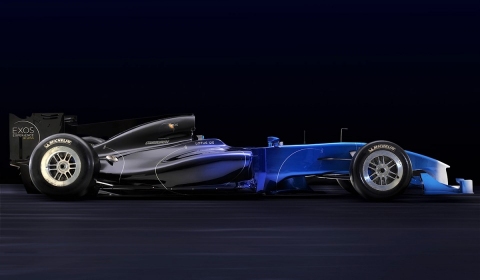 Have you ever dreamed of being a Formula 1 racer? If your pockets are deep enough, than the Lotus Exos Type 125 is undoubtedly the ultimate track toy money can buy. Lotus has released a new video of the car which embodies all the performance attributed to a Formula 1 car.
First unveiled in 2010, the Lotus T125 shares many of the design philosophies that are found in a modern-day F1 car, including carbon composite chassis and body panels constructed with an aluminium nomex core. The car also features a carbon suspension and carbon ceramic brakes. FIA approved fuel cells and crash structure ensure a the driver's safety.
Lotus's Formula One-inspired customer car is powered by a 3.5 liter V8 which puts out 640bhp at 9,800rpm. The amount of torque provided by the Cosworth engine peaks at 450Nm (332lb-ft) at 7,600rpm. The redline is 10,300rpm but the 'push to pass' button adds another 500rpm. Thanks to its dry weight of just 650kg the power-to-weight ratio is almost 1,000bhp per ton. These are vital ingredients of the recipe for excitement.
In contrast to F1, a team of technicians and mechanics is not required to keep the car running. Coaching will be provided by former F1 drivers Jean Alesi and Nigel Mansell. Production of the Lotus Exos T125 will be limited to just 25 units and pricing starts at € 780,000.
[Via MotorAuthority]