This is only my third article here at GTspirit, but it's a good one. The short version is that it's an article about a low-emission, flex-fuel Porsche 997, but this isn't a green blog and you're not here to read about a new German Prius. No, sir GTspirit is about the fastest, maddest, and most exclusive cars in the world, and this car, I assure you, is a mean, green, en-Hulk-ified Monster of a Porsche built by a pack of wild-eyed savants in the middle of rural Ohio.
If Ohio sounds familiar, it's probably because you just read about another Ohio-built monster last month: Oberlin, Ohio is the home of Switzer Performance Innovation's high-horsepower skunkworks, and (despite being best known for its P800 GTR Nissans) it's been a busy place since the company first burst onto the international Porsche tuning scene in early 2009, with the launch of the Sledgehammer. The Switzer Sledgehammer, of course, was a thousand-horsepower, all-wheel driven 997 Porsche Turbo whose YouTube fame was assured with a series of nine-second passes and a standing mile top speed of nearly 200mph. The most impressive part of the car, however, wasn't a quarter-mile time or a TexasMile certificate … it was the engine. "The engine," explains Tym Switzer, "was 100 percent Porsche. It was bone-stock."
As many of you probably know already, most OEM engines, even those emblazoned with storied and iconic names, could never stand up to 1,000 horses worth of abuse. Not for long, anyway. The 997 Porsche Turbo's engine, however, is not like most engines. "The 996 and 997 used an engine that was designed for GT endurance racing," says Tym. "Porsche used forged internals, beefy connecting rods, and a hundred other tiny detail changes to make sure that engine, in its full-race GT1 configuration, would put out massive power, hour after hour, race after race. It was built for this. Porsche built it for this." "This" translates, in Switzerese, to something that probably sounds like "put 1000 hp through it and jam!"
So, Porsche "birthed" the GT1, which gave birth to the 997 streetcars. Those 997s led to Switzer's early Sledgehammer cars which, being development cars, were too wild and hairy for most drivers. They were beasts. They were animals. They were meant to be experienced "like a sledgehammer to your senses", according to Tym Switzer … which led him and his crew to develop the P800 PKG, a streetable, comfortable, 800 hp pump-gas conversion that turned a "regular" 997 Porsche Turbo into something a little more special.
The P800, then, is what birthed the R911, which was similar to the P800 in many ways, but (as you can tell by its "R" designation) the R911 was optimized for the racetrack. On full-boil, sipping VP's 109 octane race-fuel and sucking in dense, cool air, the cars made well over 900 hp in a linear, predictable fashion that (as one journalist put it) made the R911 drive "just like a Porsche … 917K."
Right about the same time that Switzer's R911s started finding homes, however, another Switzer "skunkworks" project had started to steal some of the R911s thunder. It was a GTR-based car called the E900, and the "E" stood for Ethanol, and it wasn't long before the Switzer E900 GTR conversions caught the attention of one of Switzer's Canadian clients, who happened to be driving a different Switzer car … one of Tym's first Sledgehammer 997 Porsche Turbos. The very same Sledgehammer, in fact, that still holds a number of informal "forum" records for stock-internal quarter mile e/t, 60-130mph time, and standing mile top speeds. A serious car, in other words, and a serious driver. A driver who'd experienced a lot of seat time in a fast, famous street beast who had come to expect bulletproof reliability and bullet-like speeds … and he wanted Switzer to build him an ethanol Porsche.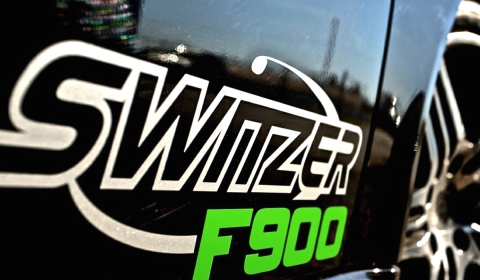 "Not just an ethanol Porsche," corrects Tym, "a flex-fuel Porsche. He didn't want a race-gas package or a street gas package or an E85 package. He wanted a car that he could throw anything at. A real, usable, daily-drivable street machine that, at a moment's notice, could pull up to an E85 station and rip off a pass in the low 10s. Or 9s, ideally."
That's what the customer wanted, and what you see here is just that. The Switzer "F is for Flex-fuel" F900 Porsche 997. A car that is part 800 hp pump-gas Switzer P800 Porsche, part R911 race-ready Switzer R911, and part Sledgehammer – when the mood strikes the driver, of course. "Until then, the car feels just like our other P800 cars. It's just like stock, except it just keeps pulling strong after the stock turbos have given up. Once you get it on the ethanol, though, it really takes off. Just like the race gas cars."
Visually, the F900 is a standard 997.1 Porsche Turbo with a few decals hinting at something special – but one look into the engine bay does much more than hint. The new car features Switzer's MONSTER intercoolers and CNC_machined y-pipe intake, as well as proprietary Switzer turbochargers breathing through Switzer's "standard" 997 sport exhaust. The flex-fuel techno-whizz-bangery is handled by a series of specialized senors feeding data back to a stand-alone ECU solution that adjusts injection and timing on the fly, ensuring an appropriate tune for whatever fuel is handy.
Choose wisely at the pump, then. Pick your poison. Etc. For pricing and availability, contact Switzer Performance.
[Photos by MotorsportPhotography.ca for Switzer Performance]