Automobili Lamborghini has opened their latest building designed specifically for the development of prototypes and pre-series vehicles. The new structure is the first multi-story industrial building in Italy to earn Class A energy certification.
Attending the ceremony were Corrado Clini, Minister of the Environment, Land and Sea; Stephan Winkelmann, President and CEO of Automobili Lamborghini; Paola Gazzolo, Regional Councillor for Territorial Security of Emilia-Romagna; and Daniela Occhiali, Mayor of Sant'Agata Bolognese, as well as numerous distinguished dignitaries and officials.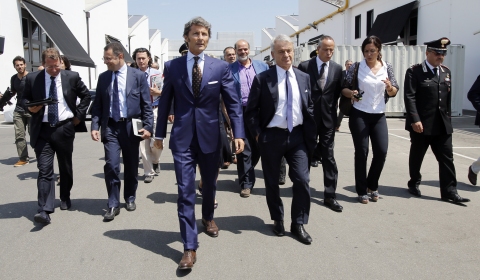 On the second floor of the building, a "mini" assembly line with advanced technical solutions has been set up to duplicate the entire range of assembly steps performed on a standard production line. The miniature line will be used to study the steps in assembling pre-series models.
The same line can be used to build a small series of vehicles such as the Sesto Elemento technological demonstrator introduced at the Paris Motor Show, with 20 units being produced as a limited edition.