The recently unveiled BMW Zagato Coupé will make its American debut together with the one-off BMW M8 at the upcoming edition of Legends Of The Autobahn.
The BMW Zagato Coupé ‒ a collaboration between Milanese coachbuilder Zagato and the Munich based car maker ‒ made its debut at the Concorso d'Eleganza Villa d'Este. The body of the BMW Zagato Coupé is based on the current BMW Z4 series and has been built entirely by hand. The design features an extremely long bonnet, greenhouse set well back, double bubble roof and Kamm Tail. An interesting feature are the countless small Zagato "z" letters to make up the kidney grille which appear to be floating within the kidneys.
The BMW M8 was once envisioned as a competitor for Ferrari, but sadly never made it into production. The only prototype M8 ever produced is powered by a V12 engine which puts out 550 horsepower. Somehow BMW decided to hide the car from the public. In fact, its existence was even denied. But two years ago the M8 finally saw the light of day after twenty years of darkness. And now it will shine in the California sun!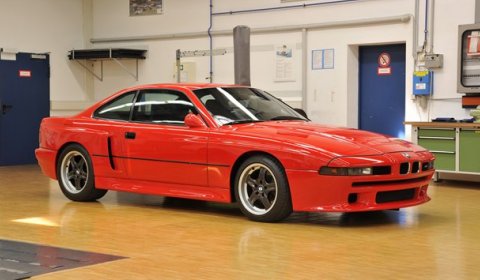 In addition to these two unique cars, the new BMW M6 Coupe and M6 Convertible are also scheduled to appear on the concourse. As the name suggests, Legends Of The Autobahn is a concourse for German cars like Audi, BMW, Mercedes-Benz and Porsche. This event will be held Friday the 17th of August on the Rancho Canada Golf Club in Carmel Valley, California.
[Via BMW Blog]