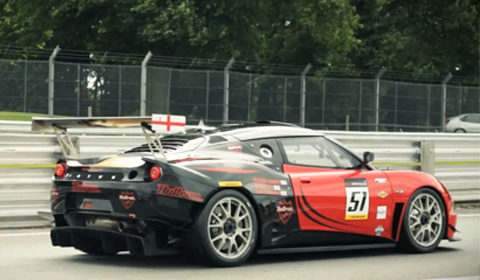 The Britcar MSA Endurance Championship is well underway, and the Bullrun Racing Team pulled off yet another impressive victory at the Oulton Park Race Circuit on June 24th, 2012. Not only did the team manage to drive their Lotus Evora into the chequered flag and finish first in their class – they finished first overall.
Martin Byford and Richard Adams qualified first in their class and fifth overall for Round 5 of the Britcar championship. David Green was absent from the race because the annual Bullrun car rally in the United States, in which Bullrun racing is sponsored by, took place over the same weekend.
Having proved their competence in wet weather conditions in the practice session proved an advantage over the competition and aided the team in their pit strategy.
Despite a minor incident early on in the race involving a rear-end bump from a rival team, the Bullrun Lotus held strong and ran in the top four for the entire race.
The team piloted the car to an impressive one lap lead over their nearest competitor – and with 40 minutes to go the Evora slipped through into the overall lead and maintained their position to take the chequered flag.
The team dominated their class, set the fastest lap and took the overall win by a clear lap. Team Bullrun now leads the Class 3 championship by 21 points and the overall British Endurance Championship by five points. Driver, Richard Adams, commented:
What a brilliant weekend. We are just starting to get the best out of the car and the team, and the Lotus package we have put together is starting to show it's perhaps the strongest in the championship. Bring on Brands Hatch in three weeks.
Team Bullrun brought out videographer, Phillip Creed, to document their victory. The video below is the end result: